Unmined was updating map of a huge world while I was writing the post on the same machine. CPU usage was around 70-80% according to Windows Task Manager and 320 MB of RAM were allocated. User interface elements were responsible, map was scrollable and fast, hard disk was working hard.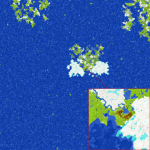 World properties:
20000 x 20000 blocks
9.66 GB folder size
1600 regions (40 x 40)
map seed is 1758000052
World has been generated using Minecraft Land Generator. It's a huge ocean, omg. Every single pixel representing one chunk (16 x 16 blocks) on this image, magnified area is 512 x 512 blocks wide and contains 1 pixel per block.
Results:
70 minutes map update time when opened first time
86 seconds map update time when reopened after playing and rebooting (without reboot it's only 3 seconds because of OS disk cache)
61 seconds image rendering time (20480 x 20480 pixels, BMP, 1.6 GB)
367 MB cache folder size
PNG export failed, BMP works
Test machine has Intel Core i5 2500 CPU with 4 cores, 4 GB RAM, 2 TB SATA hard drive spinning at 7200 RPM and Windows 7 64 bit.